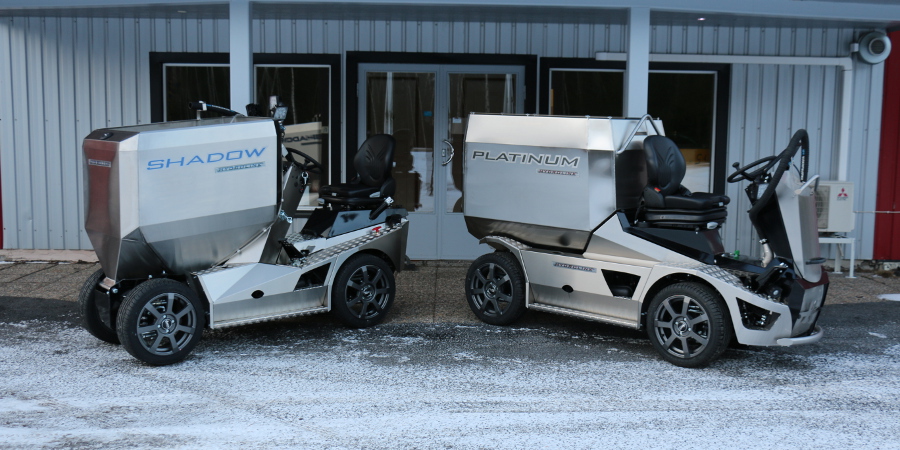 Feeding Machines
First to market
Kaj Carlson invented the first feeding truck 1964. Gigantic became Koppmatic and subsequently Foxy.
In 1967 Kaj Carlson developed another feeding truck - Minkomatic - and established the company NorCar together with Erik Norras. When Carlson sold his share of the company in 1984, they had already delivered 10.000 trucks. Kaj Carlson and his sons Tore and Mats grew up with the fur industry and in the middle of the 90's they decided to develop the truck of the future.
The four wheel driven and four wheel controlled truck with individual suspension on all four wheels with even more new technology became a success. Over 500 feeding trucks have been sold under a period of 20 years. Many of these trucks already passed the 10.000 hour mark. All the users have one thing in common; they are professional, stable and profitable farmers that continuously aim for efficiency and economy.
Every feeding truck is based on the same frame, with identical components and same build. The only difference between our trucks is the driver's seat and the food silo.
Some wants to sit in front, others in the back.
Specifications
| | | | | | |
| --- | --- | --- | --- | --- | --- |
| | Platinum | Shadow | ScanBlack | SilverCross | BlackCross |
| Engine | Lombardini [KOHLER] | Lombardini [KOHLER] | Lombardini [KOHLER] | Lombardini [KOHLER] | Lombardini [KOHLER] |
| Type | LDW 1404 | LDW 1404 | LDW 1003 | LDW 1003 | LDW 1003 |
| Cylinder | 4 | 4 | 3 | 3 | 3 |
| Displacement | 1372 cm3 | 1372 cm3 | 1028 cm3 | 1028 cm3 | 1028 cm3 |
| Compr.ratio | 22.8:1 | 22.8:1 | 22.8:1 | 22.8:1 | 22.8:1 |
| Max. power | 26 kW (35.2 HP) | 26 kW (35.2 HP) | 20 kW (27.2 HP) | 20 kW (27.2 HP) | 20 kW (27.2 HP) |
| Torque | 84 Nm/2000 rpm | 84 Nm/2000 rpm | 67 Nm/2000 rpm | 67 Nm/2000 rpm | 67 Nm/2000 rpm |
| Emission compliance | EPA TIER 4 / ECE R 24 | EPA TIER 4 / ECE R 24 | EPA TIER 4 / ECE R 24 | EPA TIER 4 / ECE R 24 | EPA TIER 4 / ECE R 24 |
| | | | | | |
| --- | --- | --- | --- | --- | --- |
| Transmission | Hydr. 4WD | Hydr. 4WD | Hydr. 4WD | Hydr. 4WD | Hydr. 4WD |
| Speed 1 | 0-14 kmh | 0-14 kmh | 0-11 kmh | 0-11 kmh | 0-11 kmh |
| Speed 2 | 0-27 kmh | 0-27 kmh | 0-20 kmh | 0-20 kmh | 0-20 kmh |
| Steering (hydr.) | Four Wheel Steering | Four Wheel Steering | Four Wheel Steering | Four Wheel Steering | Four Wheel Steering |
| Brakes | Hydrostatic | Hydrostatic | Hydrostatic | Hydrostatic | Hydrostatic |
| Parking Brake | Mechanical | Mechanical | Mechanical | Mechanical | Mechanical |
| | | | | | |
| --- | --- | --- | --- | --- | --- |
| Length | 2850 mm | 2450 mm | 2350 mm | 2500 mm | 2500 mm |
| Width | 900 mm | 860 mm | 860 mm | 860 mm | 860 mm |
| Food Tank Width | 870 mm | 790 mm | 790 mm | 850 mm | 850 mm |
| Min. Silo Height | 1600 mm | 1360 mm | 1360 mm | 1550 mm | 1550 mm |
| | | | | | |
| --- | --- | --- | --- | --- | --- |
| Net Weight | 820 kg | 765 kg | 735 kg | 780 kg | 820 kg |
| Fueltank | 28 l | 24 l | 24 l | 15 l | 15 l |
| Engine oil | SAE 10W 30 | SAE 10W 30 | SAE 10W 30 | SAE 10W 30 | SAE 10W 30 |
| Oilcapacity | 3.2 l | 3.2 l | 2.4 l | 2.4 l | 2.4 l |
| | | | | | |
| --- | --- | --- | --- | --- | --- |
| Lights | LED27W + LED10W (2x) | LED27W + LED10W (2x) | LED27W (2x) | LED27W (2x) | LED27W (2x) |
| Battery | 12V 62Ah - 480 A (EH) | 12V 62Ah - 480 A (EH) | 12V 62Ah - 480 A (EH) | 12V 62Ah - 480 A (EH) | 12V 62Ah - 480 A (EH) |
| Alternator | 12V 45A | 12V 45A | 12V 45A | 12V 45A | 12V 45A |
| Fuel Gauge | STD | STD | STD | STD | STD |
| Temperature Gauge | STD | STD | STD | STD | STD |
| Hourmeter | STD | STD | STD | STD | STD |
| Tachometer | STD | STD | OPT | OPT | STD |
| | | | | | |
| --- | --- | --- | --- | --- | --- |
| Air Suspension Seat | STD | STD | STD | STD | STD |
| Water Injection | N/A | STD | STD | STD | STD |
| Food Mixer | STD | OPT | OPT | N/A | STD |
| Feeding Computer | OPT | OPT | OPT | OPT | OPT |
| Individual Feeding | OPT | OPT | OPT | OPT | OPT |
| Washer hydraulics | OPT | OPT | STD (*) | STD | OPT |
STD
= Standard &nbsp &nbsp
OPT
= Optional &nbsp &nbsp
N/A
= Not available &nbsp &nbsp
(*)
= Not with mixer